Alpine, California 91901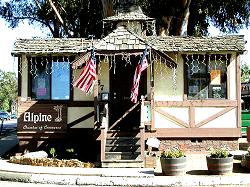 The community of Alpine California is only a half hour drive from San Diego and the Pacific Ocean. Located just off Highway 8 on the way to the Viejas Casino, Alpine provides a welcome stop-over for food, services, gas and shopping.
New: Viejas Casino Hotel Resort
Or, stay at the Ayres Inn Alpine
Other nearby hotels:
Days Inn El Cajon East San Diego (5.23 miles)
Sycuan Resort & Casino (7.11 miles)
Lions Head Guest House (7.52 miles)
Barona Resort and Casino (8.43 miles)
Best Western Courtesy Inn (9.42 miles)
Americas Best Value Inn - El Cajon (9.51 miles)
Photo tours of:
Alpine Street Scenes
Alpine Central Business District
Alpine is an unincorporated community in San Diego County, California, United States. The community is within a census-designated place (CDP) by the same name. The population of the CDP was 13,143 at the 2000 census.

Alpine is the residence of United States Representative Duncan Hunter.


Geography
According to the United States Geological Survey (USGS) Alpine is located at 32�50′6″N, 116�45′59″W (32.8350521, -116.7664109)GR1, which is near the intersection of Alpine Boulevard and Marshall Road. This is approximately where most maps place Alpine.

According to the United States Census Bureau Alpine is located at 32�50′4″N, 116�46′14″W (32.834563, -116.770615)GR1. This is approximately 1,200 feet west of the USGS location. According to the United States Census Bureau, the CDP has a total area of 69.6 km� (26.9 mi�), all land.


Demographics
As of the censusGR2 of 2000, there were 13,143 people, 4,775 households, and 3,652 families residing in the CDP. The population density was 188.9/km� (489.1/mi�). There were 4,958 housing units at an average density of 71.2/km� (184.5/mi�). The racial makeup of the CDP was 90.78% White, 0.83% African American, 1.17% Native American, 1.98% Asian, 0.21% Pacific Islander, 2.86% from other races, and 2.18% from two or more races. 10.22% of the population were Hispanic (U.S. Census) or Latino of any race.

There were 4,775 households out of which 36.5% had children under the age of 18 living with them, 63.5% were married couples living together, 8.5% had a female householder with no husband present, and 23.5% were non-families. 17.3% of all households were made up of individuals and 7.0% had someone living alone who was 65 years of age or older. The average household size was 2.72 and the average family size was 3.06.

In the CDP the population was spread out with 26.0% under the age of 18, 7.0% from 18 to 24, 29.3% from 25 to 44, 26.6% from 45 to 64, and 11.1% who were 65 years of age or older. The median age was 38 years. For every 100 females there were 99.9 males. For every 100 females age 18 and over, there were 97.6 males.

The median income for a household in the CDP was $61,832, and the median income for a family was $69,821. Males had a median income of $51,444 versus $31,891 for females. The per capita income for the CDP was $29,523. About 4.9% of families and 6.6% of the population were below the poverty line, including 9.6% of those under age 18 and 4.3% of those age 65 or over.

All About the Alpine Chamber of Commerce
The Alpine Chamber is a progressive proactive professional organization dedicated to serving the business community and the community-at-large. It relies on an energetic group of volunteers and professional staff to help direct and influence business activities. The Chamber is membership driven with 320 members comprised of businesses, individuals and service organizations.
Alpine Chamber programs include economic development, community development, governmental affairs, political action and member benefits. The Alpine Chamber continues to take a leadership roll in advancing the recognition of Alpine and the East County region as the best place to live, work and play.
The Alpine Chamber office receives local, visitor and relocation inquiries daily, which translate into hundreds of referrals to member businesses each year. Our businesses appreciate the community's effort to "shop local."
Purpose
To advance the commercial,
industrial, civic, agricultural and general interest and prosperity of
the community of Alpine and the East County region Community Development
Programs
Economic Development
Governmental Affairs
Political Action
Member Benefits

Our Customer Service Pledge
• You will receive a friendly greeting when you contact the Chamber by phone or when you walk through the office door.
• The Chamber staff will strive to get to know you as an individual, become familiar with your business, and seek ways to help you succeed.
• When dealing with customers who have a complaint or inquiry about your business, and when referring customers to Chamber member businesses, the Chamber staff will follow a strict policy of integrity, confidentiality and fairness.
• The Chamber staff will respond in a speedy and appropriate manner to any requests you may have, using all resources available, and exhibit a professional knowledge of business issues which may affect Chamber members.
• The Chamber will work to provide the best possible services to benefit your business, whether it be through group insurance programs, networking meetings, publications, promotions, business seminars, festivals, trade shows, community wide celebrations, or other projects or special events.
• The Chamber will strive to encourage your positive participating and support of Chamber programs, committees and events.
• At least once each year, a Chamber staff member or volunteer leader will personally visit you in your place of business to gather your input and ensure that the Chamber is living up to your expectations.
History
The first people to enjoy Alpine's fine climate were the Kumeyaay Indians, who lived here around a thousand years ago. They are one of the many tribes whom the early Catholic Missionaries grouped together under the name Diegueno. The descendants of these people are a vital part of our present community. Alpine began as a stage stop for the mines in the Cuyamaca Mountains. Drivers hauling supplies to the mines and delivering gold to San Diego stopped to rest and change horses before continuing up the rough trail to the Cuyamacas or down the hazardous trials to the coast. Although the stage stop was only a barn and small store, there was an abundant supply of fresh water from the springs in front of the store. Alpine's population gradually increased as the miners spread stories about the area's scenic beauty and fresh water.
Benjamin R. Arnold, seeking a place to cure his asthma, arrived in Alpine in 1887. His health improved in Alpine and he built the family home in what is today the town center. He built the first hotel for people coming to the mountains to improve their health. Arnold spearheaded stageline and road improvements for regular stagecoach services to run down the mountain to meet the train in Lakeside and haul people and supplies back.
Arnold helped build the Town Hall, now the Alpine Woman's Club which is still used for community events and activities.
Alpine gained worldwide publicity during World War I, when a U.S. Government survey declared Alpine's climate the best in the nation. "Best Climate in the U.S.A. by Government Report" became the town slogan.
Today residents of Alpine continue to enjoy the scenic beauty, great climate and small town atmosphere.

--------------------------------------------------------------------------------
Education
Alpine is a community that is firmly committed to quality education. Parents play a very active role in schools through the PTA's and volunteering in the classroom. Special programs for the arts are offered through the Art Docent program and Alpine Optimist Foundation for Learning.
Three elementary schools, a middle school and an early education school comprise the Alpine Union School District. The district takes pride in the quality of its well-rounded academic program and its small class sizes. The elementary and middle schools have been recognized by the state for their academic excellence. High school students may attend Steele Canyon High School or Granite Hills High School, both in the Grossmont High School District. A citizen committee for a high school located in Alpine continues to work toward that goal.
Grossmont-Cuyamaca Community College District provides many opportunities for students wishing to attend a junior college, on their two campuses located in El Cajon and La Mesa.

--------------------------------------------------------------------------------
Business
Alpine has a thriving economy powered by a dynamic business community. There are hundreds of small firms that offer professional services and a variety of retail shops. Businesses are primarily located within the town center, along Alpine Boulevard and Tavern Road. Located just off Interstate 8 at the Tavern Road exit are two shopping complexes, Alpine Creek Shopping Center and the Country Side Center. The Viejas Casino and the Viejas Outlet Center are located on Willows Road, at the I-8 Willows Road exit. The Viejas Outlet Center has been nationally recognized for its design and landscaping.
In addition, hundreds of businesses offer professional services from their residences. With all the electronic and technical conveniences available today, this segment of the business community is prospering and enjoying the flexibility of working from a home office.
The Alpine Chamber of Commerce reminds residents to shop locally through their "Shop Alpine First" campaign. Alpine is proud of the strong partnership between businesses and community organizations. Many businesses financially support youth programs, including AYSO, Girls Softball and Little League. Businesses are also active in sponsoring community programs and events throughout the year.

--------------------------------------------------------------------------------
Housing
Alpine is a picturesque foothill village with many attractive homes and small ranches nestled among the oaks, sycamores, eucalyptus and pepper trees, amid rolling hills covered with chaparral and sage.
Located in San Diego's East County, it borders the Cleveland National Forest and it is only a 20 minute drive east to the mountain recreation areas of the Cuyamaca State Park and the Laguna Mountains. It is a half hour drive west to San Diego and the Pacific Ocean.
Situated on Interstate 8 at the foot of the rugged Viejas Mountains, which rise to 4,187 feet above sea level, Alpine's elevation ranges from 1,800 to 2,600 feet and hosts Alpine's ideal climate with an average high temperature of 77 degrees.