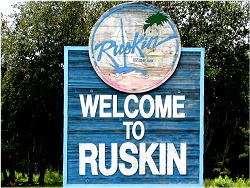 Over the years, vegetable farming became a most important industry in Ruskin. With miles of riverfront, bay shoreline and estuaries Ruskin is also a Mecca for boating, fishing & for experiencing the ecology of SouthShore Tampa Bay's wetlands.
Ruskin - Hotels & Lodging
Ruskin Convention & Visitors
Holiday Inn Express
Southern Comfort Bed & Breakfast
The Inn at Little Harbor
GoThere Hotel and Travel Services
In 1910 Dr. George Miller founded a Ruskin College here in what would later become the community of Ruskin. It was based on the principle of combining intellectual endeavors with manual labor, based on the philosophy of Victorian Englishman John Ruskin who fiercely attacked the worst aspects of industrialization, and actively promoted art education and museums for the working classes. Although the school closed during World War I, cooperative governance of Ruskin continued many years under the Commongood Society.
Read about the Ruskin Community Plan which includes goals for downtown Ruskin; economic development; environment; culture & history; education; College Avenue; transportation; parks & open space and public facilities & services.
---