Evening Dance Cruise
A feast for your eyes, and your palate. Afterwards, dance the night away, or watch the stars sparkle on the water.

Dolphin Cruise from The Florida Aquarium in Tampa Bay
See these lively mammals in their natural environment from aboard the 64-foot catamaran, Bay Spirit.
Four Super Bowls in Tampa, Florida:
2009 - Super Bowl XLIII: Pittsburgh Steelers 27, Arizona Cardinals 23
2001 - Super Bowl XXXV: Baltimore Ravens 34, New York Giants 7
1991 - Super Bowl XXVI: Washington Redskins 37, Buffalo Bills 24
1984 - Super Bowl XVIII: Los Angeles Raiders 38, Washington Redskins 9
Also, please do not forget the glorious Jan. 26, 2003 in San Diego Ca. where our own Tampa Bay Buccaneers beat the Oakland Raiders 48 to 21!
Super Bowl XXXVII - Tampa Bay Buccaneers Championship Video
There is NO snow predicted (again) for game day in Raymond James Stadium in the city of Tampa Florida. Some things that have changed since 2001 however are new and improved Channel District restaurants & entertainment, International Plaza shopping, and new downtown hotels. Tampa International Airport (TPA) was voted "Best Airport in the U.S." by Conde Nast Traveler Magazine.
Tampa Bay is home to NFL team Tampa Bay Buccaneers and sport teams Tampa Bay Lightning & Tampa Bay Rays.
Read about Tampa in Tampa Bay Illustrated
It's not too late to book a hotel for the 2020 Super Bowl in Tampa.
Book Online or call
toll-free 800-632-3303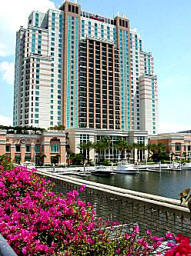 Tampa Waterside Marriott Hotel, Tampa's newest architectural masterpiece is a magnificent waterfront convention hotel with all the amenities of a resort and offers deluxe accommodations including a concierge level, full service beauty spa, fitness facility, outdoor pool