I remember when I was a child my father took me downtown to the opening of a diner that was supposed to sell everything for a nickel. We found a rather large crowd milling about.
.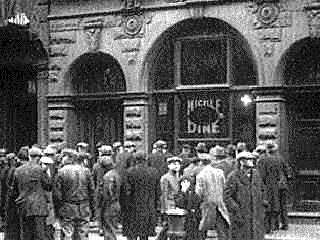 - Nickel & Dine becomes nickel & dime -
The owner, Juan "Honest John" Cortez had placed a New York Subway nickel turnstile in the entrance, which confused the people at the head of the line. Fearing being crushed by the pushing crowd, each was forced to deposit their nickel to gain safety inside.
Once in the door, it was discovered that not only was each item on the menu priced at a nickel, the silverware, napkins, chairs and even the menus cost 5 cents to use! Having already had to pay to get in, most people opted to still eat there, albeit standing up, food in hand. We had blueberry pie, but decided to skip the ice-cream.
Although the idea of a nickel diner soon lost favor with the citizens, Cortez managed to attract so many first time customers that it enabled him to save enough money to start an off-shore bank. The Bank of Cortez is still located just off the coast of San Diego, and is popular with local fisherman.
---