The 1938 Summer Olympics in San Diego included the most graceful water event ever: Synchronized Canoe Paddling.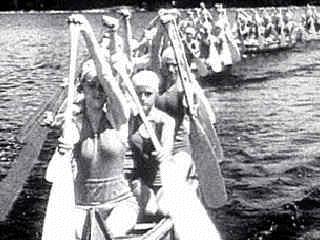 - "Miss San Diego" captains the lead canoe -
The San Diego team was by far the largest, with 183 women competing in 32 canoes. The team had practiced together for the better part of 6 months, perfecting not only the classic "All-up, all-down" stroke, but also developed the crowd pleasing "Stand-up, sit-down, bathing-cap-snap" stroke.
The San Diego team managed to incorporate 52 different strokes in various combinations during their 3 ½ hour routine, setting an all time record which still stands today.
Team captain and 1938 Miss San Diego, Margo Thropp later went on to distinguish herself in World War II as a Navy nurse. After the sinking of the troop carrier Poseidon, which was carrying her to Midway Island Navy Hospital, she single-handedly paddled a string of 5 rafts loaded with wounded sailors and marines to the safety of Toogoo Maru Atoll where they were rescued by the Midway officers' mess crew on the atoll searching for gooney bird eggs to supplement Sunday's menu.
---