The Balboa Stadium in Balboa Park became the fitting welcome home container for Edward Balboa's return from Paris after accompanying Charles Lindbergh on their daring "first duo flight across the Atlantic."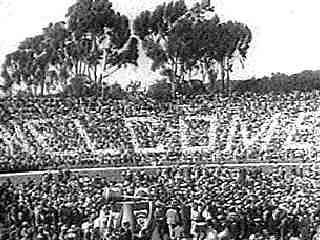 - OLP Girls Spell Out a Warm Welcome -
It seemed like half of San Diego had either turned up at the ticker tape parade down Broadway, or waited in the hot July stadium to pay tribute to the brave aviators.
The entire student body of the Our Lady of Peace high school for girls formed a giant "WELCOME" sign in the bleachers. The bright red and yellow colors of the school uniform made the perfect contrast to the rest of the spectators, and added a festive note that could be seen all the way out to the Coronado Islands.
The Lindbergh/Balboa reception lasted 3 days and 2 nights. The party finally broke up and everyone went home just before the start of the San Diego Padres' home game against the Los Angeles Xtars (LAX).
---