At the corner of 5th and Ash Street is the last remaining example of the Neo-Corniche architectural style made internationally famous by San Diego's William Cortez.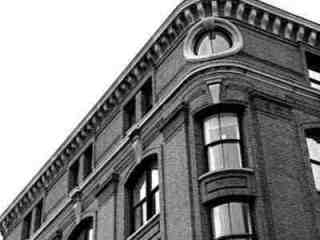 - The Cortez Neo-Corniche style -
Cortez combined the sturdy red brick so popular at the time on the east coast, with the rounded corners and "knee brace" ledge treatment that he had developed.
The knee brace feature was copied from the construction technique used in wooden sailing ships being built at the Balboa Shipyards on San Diego bay. The knees, usually red oak, supported cargo ships' decks that had to hold heavy loads. Carved red granite was used by Cortez in all of his designs because the rock's veins simulated wood grain.
Cortez built his own glass factory on the 800 block of Market Street just so he would have a reliable source for the special curved glass he needed in the curved windows used in his buildings.
The great grand daughter of Cortez, Dorthea Sky-Cortez who carried on the Cortez Architecture firm tradition, designed a glass elevator in 1958 that ran on the outside of an 11 story hotel.
---