The one-time crop duster runway in El Cajon finally became an international airport thanks to the gracious cooperation of the family of famous war ace John "Nick" Brown in lending his name to the project.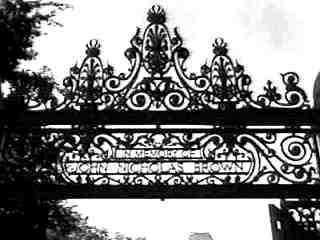 - Brown Memorial Gateway -
Brown Field stands today as an example to the aviation world of how a modern air transport facility should operate. However, it was not always meant to be.
After the war all of the land had been re-zoned by the City for agricultural use in an attempt to become the "Artichoke Capitol of the World." Later it was pointed out that artichokes needed lots of water and La Jolla was already the "Artichoke Capitol of the World," and so the City decided instead to become the home of the "Airfield of World."
Without the name of Brown to draw big investment dollars, the City could never have carried out its plans. In the memory of Brown the City erected an ornate wrought-iron gate at the entrance to the airport to remind travelers of what can be accomplished through creative municipal marketing.

---