The overland stage and steam locomotive rail service in and out of San Diego got new competition with the opening of the new Greyhound bus terminal on Broadway.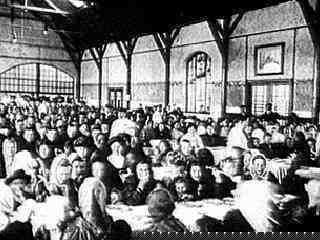 - In Terminal Wait -
The first to arrive in San Diego on the new bus service were welcomed into a luxurious high-ceilinged waiting room. And wait they did. The bus service being a passenger bus service, did not include the transport of luggage. A separate contract with the Acme Luggage Transport Co. of Toledo, Ohio required that all Geryhound bus passengers travel separate from their belongings.
At the end of the first 10 days, 145 new arrivees remained huddled in the bus terminal, waiting for the first luggage delivery. If it were not for the free-will-offering food gifts from the local Hari-Krishna, many would have starved.
Snack bars and lunch counters in Greyhound terminals throughout the country today are owned and operated by the Hari-Krishna.
---