Oscar "El Cajon" Soledad became an accomplished horseman from his earlier days as Chief of Police of the town of Santa Cruz, north of San Deigo.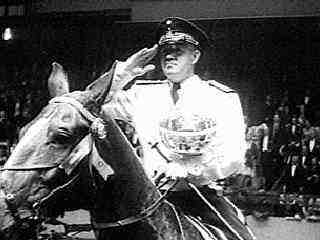 - The Mounted Soledad -
Pictured above, Soledad in the 1938 Miss San Diego parade on his way to the corronation cerimonies.
Soledad got his nickname "El Cajon" from the small box-like jails that he had built for each of his individual political enemies. Defeated in a recall election, Soledad escaped by horesback to San Diego to avoid incarceration in his own "El Cajon."
Soledad would make the bulk of his fortune through a chain of Oscar's Drive-in restaurants. A paper-box factory he bought and tried to convert to a wooden-box factory failed when he could not harvest enough wood from his east county buxus harlandii plantation.

---