Miss Carlsbad snipped the ribbon starting direct air service between San Diego and its icy sister city to the north, Carlsbad.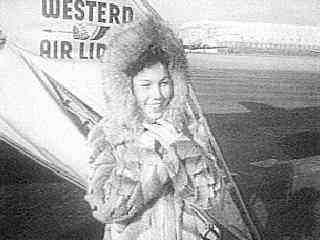 - Miss Carlsbad comes to rub noses with San Diego -
Cut off from travel between the two cities during the long winter months, citizens of Carlsbad were effectively isolated until Western Air Lines inaugurated direct flights to San Diego using DC-3 aircraft fitted with retractable landing skies.
Iona Bailey, Miss Carlsbad of 1958 disembarked wearing her native winter costume. "Greetings from your freezing cousins to the north," she said. "It feels so good to have the sun on my face again, I think I just might stay!"
Iona did stay in San Diego after all. She discovered that all of San Diego's whaling industry was devoted to the manufacture of whale oil for lamps, and none of it for food. Iona opened Bailey's Blubber Bar at the end of the 5th Avenue pier where she was quite successful until years later when environmentalists forced her to give up on whale. With few tears she turned instead to serving slice-your-own Hawaiian Sweet Onion sandwiches.
---