The skylift carried passengers from the bluffs near the Trolley Barn on Line #11 at Adams Avenue down to Mission Valley from 1907 to1949.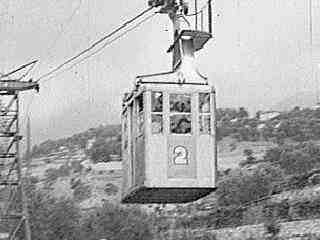 - Gondola #2 descends into Mission Valley -
Mission Valley was rich in agricultural products, but was relatively inaccessible to those San Diegans who had no cars. The only public transportation in and out of the valley was the skylift.
Built by Munich Skylift Fabrik, the skylift carried area residents to the valley floor where they could buy fresh milk and farm produce. It also connected with an electric-powered trolley that would take sightseers to the ruins of Mission San Diego de Alcala.
The combined opening of a freeway in Mission Valley plus the retirement of the trolley effectively ended the need for the skylift.
---