The winter of 1909 was the coldest in San Diego's recorded climatologic history. For the first time ever, the waterways of the Canal District froze completely from bank to bank.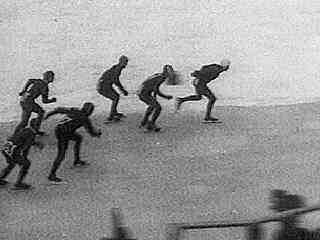 - Gondoliers on skates -
The now idle gondoliers, who usually plied the canals in their magnificent craft, organized speed skating events as "mini" Winter Olympics. The longest course was twenty-seven miles long and was designed to cover each section of canal without ever going over the same section twice. It took the combined minds of the entire math department at the College of San Diego three days to calculate the course.
Freezing San Diegans sat along the banks of the canals to watch the races. The best views were from the stone steps that lead from the banks down to the water's edge where the gondolas usually transferred passengers.
The winner of the big race was Monté Montaña. He was awarded a set of ice skates especially silver-plated for the event. Monté incorporated the silver blades from this pair of skates into the bow of his jet-black gondola. His great grand son Monté III still guides this same boat along the canals and locals still come to see the silver blades and remember the Winter of '09.