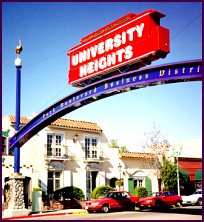 Photo tours of
University Heights:
List of selected University Heights Merchants

University Heights is one of San Diego's oldest communities. Its heart is near the intersection of Adams Avenue and Park Boulevard.
Search the online University Heights Community Directory for a complete listing of local merchants and organizations.
University Heights is showing leadership in San Diego community redevelopment. Many building fronts and interiors have been brought back to original condition. Many new buildings have come into the community and added their special character.
Sponsered Links:



Adams Avenue Grill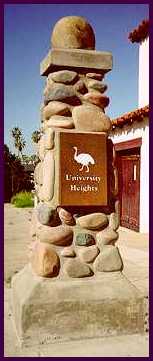 If you think you see images of ostriches everywhere, that is because in the early 1900's Harvey Bentley's Ostrich Farm supplied the raw materials for fashionable ostrich-feather hats and garments. (We're more politically correct in the 21st Century.)