The Hillsborough Hysterical Society was founded in 1763 by Wills Hill, Earl of Hillsborough. In 1915 Andrea Plant, a direct descendent, took over reigns of The Society, seen here on the Plant estate in her favorite pony cart with brother Windemere & poodle Doria.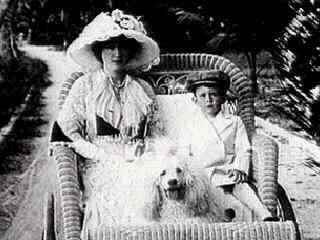 - Andrea, Doria & Windemere -
Heiress to the Plant Hotel, Railroad and Shipping fortune, Miss Plant works tirelessly in her desire to "…bring truth and beauty to a once dusty little Hillsborough."
In addition to archiving photographs of Hillsborough, she has interests in furthering military health care, public horticulture, art and opera.
Her mission for the Hillsborough Hysterical Society is to:
Preserve the history of Hillsborough
that others overlook.
---
All articles are written by TBHS staff or members.
We welcome your comments.


---
Disclaimer
The Hillsborough Hysterical Society on the Hillsborough River(46°13′00″N 63°05′22″W) is not affiliated with any other Hillsborough or Tampa historical societies and therefore cannot be responsible for the accuracy of what they may publish.