In February 1937 Dr. Stephen Ashley enlisted the help of his younger brother Robert to help design and build a car that would "go like a bat out of Hell." The brothers set up a work room in the back of the family bakery in Ybor City that the two had recently inherited.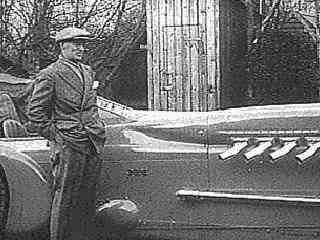 - Dr. Stephen Ashley and his Batmobile at a roadside relief station -
They started with a 24 cylinder, 1,000 horsepower motor out of a wrecked PB-M Seaplane that Stephen had purchased from MacDill. Much of the body of the car was fabricated from the plane's aluminum pontoons. Instruments and seats were also salvaged and used in the car.
Although the car was driven on the road only once, yet still holds the unofficial Tampa speed record from Columbia Restaurant in Ybor City to Colonnade Restaurant in Tampa. The car was however extensively raced at the Tampa Auto-Drome on Morgan St. The car was destroyed in a fiery crash November 2, 1939.
Dr. Ashley would later ghost-write a series of Batman stories for DC Comics.