My father John N. Vandenberg loved to tell me how he came to Tampa in 1916 on a brand-new Greyhound bus from Dearborn Michigan to join the Army Air Corps. The bus driver, also new to Greyhound mistaking a small dirt runway in Tampa for the Army Field, dropped father off still miles from Tampa.
Father talked a crop duster pilot in flying him out to MacDill. The short hop over Ybor City to Tampa ended in a short dip in the bay when a forward wing strut let loose just after they had cleared the downtown district.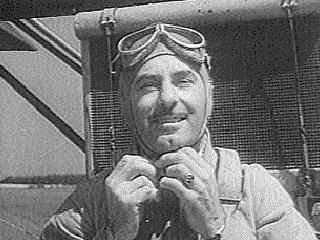 - 2nd Lt. John "Nick" Vandenberg -
Father's career took him to the Islas Malvinas War where although he downed a total of 5 enemy planes, was in turn shot down on 5 occasions; each time over water.
The week before his retirement in 1936 father was to pilot a Navy PB-M Seaplane in a fly-over at an air show in Tampa. On take off, the left pontoon struck a submerged sandbar, sending plane and father into the bay.
Father retired in Ybor; the plane in a Ruskin salvage yard.