Chrysler Classic Speed Festival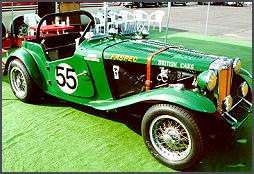 The Chrysler Classic brings racing back to San Diego for an event billed as a "rolling museum of motor racing history". The Speed Festival takes place at Naval Air Station North Island on the picturesque island of Coronado, California, and features historically significant cars from the open wheel race cars of the 1940's to the Trans Am racers of the late 1960's and early 1970's.

While many contribute to the success of such an event, I must mention race organizer Steve Earle, who states that the goal of the Historic Motor Sports Association is to "preserve motor sports history by encouraging the preservation, restoration and use of important racing cars". Steve has done such a wonderful job with the Laguna Seca Historics, hopefully the Chrysler Classic will follow suit.
As you visit the paddocks, speak with the drivers and look at the cars (all of which is greatly encouraged) you will find an absolutely breathtaking array of authentic and historically significant cars. Among my favorites have been 1953 Jaguar XK-120, the 1956 Corvette SR-2, 1953 "FASPEC" MGTD, 1929 Lagonda and 1929 MG 18/80. While the last two may not be the fastest cars on the track, their rivalry has provided some of the most exciting spectator moments available anywhere. Don't try to tell these driver/owners that this is just for fun - they go at it in earnest!
Each year promises to be better than the last. Save yourself a 10-hour drive from San Diego to Monterey's Laguna Seca Race Track and treat yourself to a very affordable and exciting weekend of motor racing.