Behring Auto Museum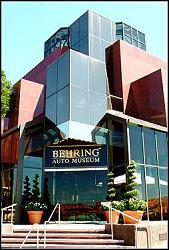 The Behring Auto Museum is nestled in the beautiful Blackhawk Plaza which features upscale shops and restaurants interrupted by a babbling stream, fountains, bridges and walkways.
The museum is open Wednesday through Sunday from 10A.M. to 5 P.M.
The beautiful Behring collection features only classic cars as strictly defined by the Antique Automobile Club of America. Many are one of a kind, "one-off", cars that were made for royalty or custom made automobiles for movie stars like Rudolph Valentino.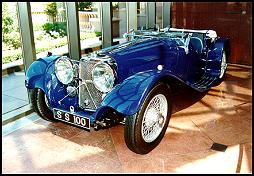 These cars are displayed on highly polished stone floors on two stories of this building. The casual visitor may spend only an hour or so, but the aficionado could easily spend all day. My trips here generally have involved arriving at 10 A.M. walking the ground floor, breaking for lunch around 1 P.M. at a small French restaurant just outside the front doors (the French onion soup is an absolute must), followed by an afternoon enjoying the cars on the second floor.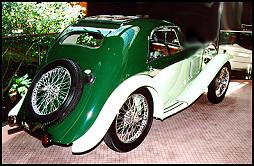 Certainly my favorite cars are the SS 100 and the little two-tone green 1934 MGPA Airline coupe.
Visitors will enjoy such beautiful cars as a 1908 American Underslung Model 50, a 1910 Mercer Model 30 Speedster, a 1920 Pierce Arrow Model 66-A-4 Touring specially commissioned for Fatty Arbuckle, a 1926 Rolls-Royce Silver Ghost Chassis, an extensive collection of prewar Mercedes Benz', and one of 2 1966 Ferrari 365 P Guida Centrales (with the steering wheel in the center so one "wife" could sit on each side).
The Behring Museum is a must see for anyone in the San Francisco Bay area (and Blackhawk Plaza offers many "shopping and eating" opportunities for the non-automobile enthusiast).