Petersen Automotive Museum
The Petersen Automotive Museum is located in downtown Los Angeles on Wilshire Boulevard and is open Tuesday through Sunday from 10A.M. to 5 P.M.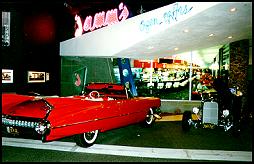 The Petersen collection is primarily a celebration of automotive history as part of American (and specifically Southern California) culture. This theme is enhanced by many panoramic recreations of drive-in malt shops, gas stations, and car dealerships.
Here you will find classic, Hollywood, hot-rod and Indy cars. Many of these cars have been raced from dragstrips to Bonneville Salt Flats to Indy, customized as part of Southern California's 1950's car culture, or artistically painted by such notables as "Shaky Jake".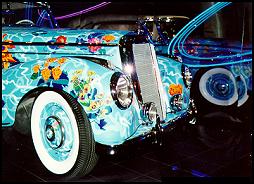 These cars are on display along with motorcycles and automotive artwork. Just inside the main entrance there is also a very nice gift shop with model cars, books, shirts, and other car related "good stuff". The casual visitor may spend only an hour or so, but the aficionado could easily spend all day.
Visitors will enjoy such beautiful cars as a 1959 Cadillac Coupe d' Ville convertible, a display of Duesenbergs, a 1950's AAA Tow Truck, Jack Benny's Maxwell, and the recreation of an early automotive blacksmith shop. The Petersen Museum has rotating exhibits which in 1997 included a celebration of "50 Years of Ferrari" and 1998 featured "50 Years of Porche" which was the largest factory-sponsored exhibit of Porches in the United States.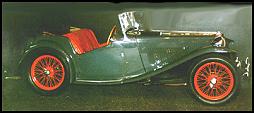 Certainly my favorite car is a little gray 1948 MGTC with double rear-mounted spares.
The Petersen Automotive Museum is a great day adventure for anyone in the southern California area. Play hooky from work or school some weekday and treat yourself. You'll be glad you did.