San Diego Automotive Museum
The San Diego Automotive Museum is located in San Diego's beautiful Balboa Park. Here on display are featured some 50 cars which represent a core collection of "classic and historically significant vehicles" plus rotating exhibits ranging from British cars to woodies to motorcycles to off-road vehicles.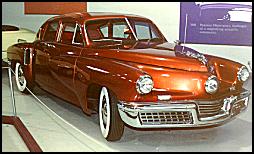 The visitor to this museum is treated to a somewhat eclectic grouping of automobiles and motorcycles. Possibly the most interesting car in the core collection is a 1948 Tucker "Torpedo", one of only 51 built. Be sure to read about all the modern innovations Preston Tucker incorporated into this "old" car.
Visitors will find cars ranging from a Thomas Flyer to a Rolls Royce to a Bizzarini. There is also an excellent collection of motorcycles (some British) and an engine display room. The rotating exhibits display cars which are on loan from other museums such as the Imperial Palace or one of the many private collectors in San Diego.
When the museum was first getting started in 1988, it solicited help of all kinds from the over 100 car clubs in San Diego. Among other things, the upper windows needed to be scraped to again allow in light. It seems these windows were tarred over during World War II (remember these buildings were constructed for the Pan American Exhibition in 1914). As a gesture of thanks, the logos of the helping clubs were painted on the roof walls just outside the windows. Today from the floor of the museum, visitors can still see these club logos (including the San Diego MG Club).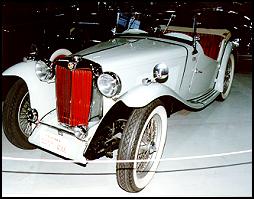 Of special interest to MG World is an MG TC in gray (which as far as I know, was not an original color).
Also in 1988, the San Diego Automotive Museum and the San Diego MG Club jointly sponsored a Sock Hop to generate interest in and money for the newly forming museum and to celebrate the 30th Anniversary of the club. Over 400 car people "rocked the night away" on the floor which later that year became the automotive museum.
Because the core cars only represent about half the cars on display at any one time, chose your visit carefully to coincide with one of the rotating exhibits which interest you.