MG World
Stock Market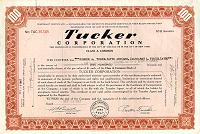 The collecting of obsolete automotive stock certificates can be quite fun and a potentially rewarding sidelight to your automotive hobby.
By the way, doing so would make you a "scripophilist" (one who collects old stock certificates).

Where can you find such items?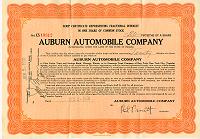 Parent and grandparent attics can often be a good source for those old stock certificates which were deemed "worthless" during the 1929 Stock Market Crash. Many people found it hard to throw away something they had spent good money on. After all, "you never know, they may be worth something again some day".
Estate and garage sales may turn up the occasional stock certificate.
Antique shops specializing in paper and books.
Dealers and art galleries actually exist for such items.
Auction companies may specialize in or occasionally offer stock certificates.
Automotive museum gift shops.
OneShare.com "The site that allows everyone to give stock ownership as a gift"
Why would you collect automotive stocks?
It's a relatively inexpensive hobby (certainly compared to rechroming the grill on your MGVA Tickford).
It provides great scavenger hunt-type fun looking for and "discovering" stock certificates for an automotive company which no longer exists. (You might actually find this to be an "interesting" past time while your wife wanders through yet another antique or quilt shop).
Researching the companies and certificates is both interesting and educational.
As with collecting all things, there is always the possibility that you may come across an extremely rare and valuable certificate at a garage sale price.
What should you look for when collecting/selecting automotive stocks?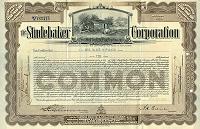 Early issues of a company's stock would most likely be the rarest and most valuable.
Stocks issued by historically significant, defunct or extremely obscure automobile companies. (Obviously, this would include British Leyland, BMC, etc.)
Signatures of famous persons would make the certificate more valuable even if that person is not directly associated with the auto company. For example, Abraham Lincoln's signature would increase the stock certificate's value even though this Lincoln had nothing to do with the auto company. (And yes, something would also appear to be fraudulent, either the signature or the certificate.)
Many stock certificates are collectible just for their intrinsic beauty or interesting engraving.
As with the collecting of anything, this should be something you like for your own personal reasons. For example, you may own a Flint automobile or you may have always wanted to own 100 shares of stock in an automotive company. You may just find the certificate attractive or the "right" color to hang in your den. Whatever the reason, it needs to be yours and not anyone else's. This way if you never make a nickel from you investment, it will still be something you enjoy.
What can you do with automotive stocks?
Stock certificates are often matted and frame-mounted for display as art in a den, study or office. Certificates can be stored in notebooks for viewing or drawers for non-viewing.
How about displaying the certificates under table-top glass as conversation pieces?
Of course, you could always display your certificates on your "home-page".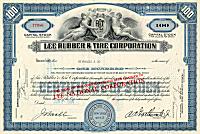 I am just learning about this aspect of the automotive hobby myself and certainly am neither an "expert" nor a "dealer" in such items. If, however, you have some automotive or automotive-related stock certificates that you would be interested in selling, please contact me. Douglas S. Pulver (858) 278-5359.