The 1998 Chrysler Speed Classic


by Doug Pulver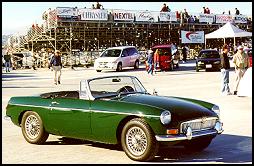 The 1998 Chrysler Speed Classic brought racing MGs to San Diego for an absolutely thrilling day of motor sports. Sponsored by Chrysler, the Speed Classic features historically significant cars at speed, a display of Chrysler new and concept cars, a food and vendor court, and paddock parking for interesting club cars. Congratulations to the organizers this year for laying out the course with great visibility from all grandstands.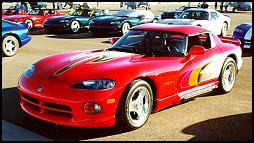 There was also a special parking area full of Vipers whose owners got to participate in a few parade "laps" around the track at lunch-time. (The parade by the way included a "drag race" down the start finish straight-away.)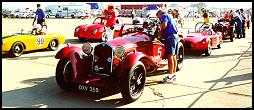 The prewar and early post-war groupings are always my favorite and this year included a 1933 Alfa Romeo 8C 2300, a 1936 Bugatti T-37, a 1935 Wolseley Hornet, and a 1939 Lagonda V12 (which was extremely competitive until it spun out).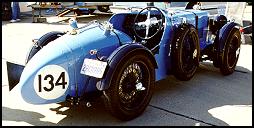 This was a very special day for MG racing as there were many cars to watch. Of particular interest to me was a 1934 K3 Magnette. Although I have seen one or two of these on rare occasions in museums, this car was actually racing - wow! Also racing were Pete Thelander and his often photographed 1934 MG NE Magnette and the 1952 "FASPEC" MGTD.
Visiting the paddocks, looking at the cars, and speaking with the drivers is always fun and interesting. Here I found out from the owner of a 1958 Devin SS (one of 16 made) that the track was extremely rough and tires were wearing out fast.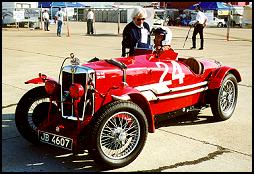 Pete concurred and told me the track was so wide this year that he wasn't sure which was the fastest "line" to take his NE Magnette through the course. I pointed out that he should find another NE Magnette and "go to school" on him. Pete informed me that there were no other NE Magnettes at the track or, for that matter, in North America! Oh well, I tried.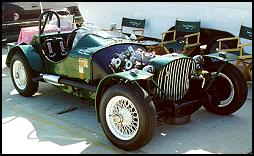 Wandering further through the paddocks I came upon a 1950 MGTD which was known as the "Swiss Cheese Special". This vehicle had been created/restored in the fifties. All possible metal was removed to lighten the car to make it faster. With so many holes in it, the nickname should have been obvious.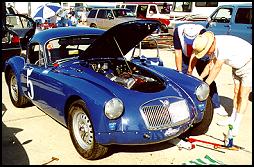 Next, I came to a pretty blue MGA Twin Cam coupe from Tennessee and whose "pit crew" was my friend Jim Alcorn of Auto Vintagery. Jim and his staff had restored this MGA, so he was very interested in its doing well.
Once the Mustangs and Camaros rolled out, I was pretty much done race spectating for the afternoon. I left my wife there to enjoy the roar of these powerful machines and I walked over to the club car parking with my boys. Here we ran into several MG Club members and some rather interesting cars. Have you ever seen a P 1900 Volvo? Great fun.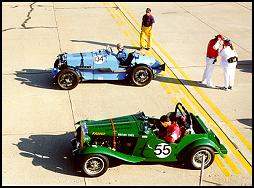 Each year the Chrysler Speed Classic seems better than the last. Next time it comes to town, save yourself the 10-hour drive from San Diego to Monterey's Laguna Seca Race Track and treat yourself to a very affordable and exciting weekend of motor racing.