The 1999 Los Angeles British Car Meet
by Doug Pulver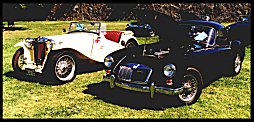 The 16th Annual Los Angeles British Car Meet (LABCM) was held on October 10, 1999, at Woodley Park in Van Nuys, California. This year's event boasted close to 400 cars and attendance by nearly 2,000 people.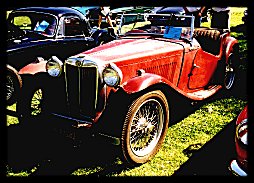 All British cars were welcome regardless of condition as this was a "celebration" rather than a "show". Cars arrived that ranged from "junker" to "daily driver" to "concours" to "work-in-process". One "well-used" red MG TC caught my attention because I overheard several people remark that this was the perfect car to drive and enjoy.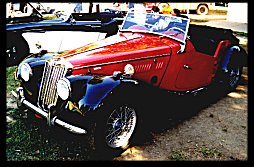 Visitors were treated to the great smells of bangers emanating from The Ministry of Food, the wonderful sounds of both live and recorded music blasting out of the PA system (including some delightful Scottish "rock" music), and the inevitable temptations to buy great British automotive trinkets from one of the vendors. This year's visitors to LABCM also had an opportunity to purchase cars from Checkered Flag. Did I mention they had a red and black TF for sale?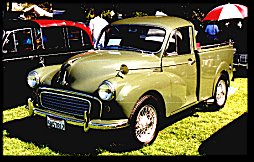 I found an incredible gathering of Morris Minors (numbering perhaps 40). Their large attendance was due in part to extensive phone solicitation by the event's organizer Rick Feibusch, himself an avid Morris owner and officiando.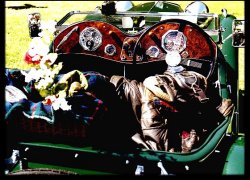 The grass was covered with row after row of MGs. This year's MG attendance was enhanced in part because the American MGB Register chose this venue to hold its 1999 National Convention. The MG range included a flawless 1935 MG PB, an immaculate 1939 MG TB "Cream and Cracker"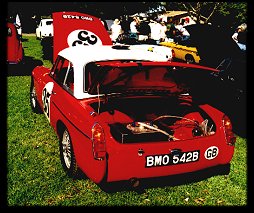 (brought from San Antonio, Texas by Skip Burns), several MG TCs, two immaculate MGAs (a black coupe and a green roadster) and any number of MGBs. I always ask my son which car he would most like to take home. Although he could not decide, my choice would have to be the white MG TC (or maybe the silver Aston Martin DB5 ala "Bond, James Bond").
Each year I find some new idea for my cars as well. For example, I like the clean look of the bumperless MG TC front.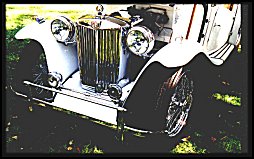 I do not like the large horizontal bar or the vertical "nerf" bars which are the two standard TC bumper configurations. In speaking with the owner of the white MG TC, however, I found out that the beautiful overrider bumper treatment on his car was actually from a period Cushman! Very attractive.
This wonderful show is a must every year. Treat yourself to a viewing of these always beautiful and often unique L.A. British cars. You will be glad you did.