The 1998 Torrey Pines Concours d' Elegance


by Doug Pulver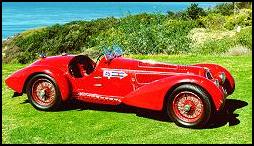 The 1998 Torrey Pines Concours d' Elegance began with an absolutely gorgeous cool clear day in San Diego. The honored marque was Alfa Romeo and many restored examples and some unrestored race cars were present on the green overlooking the Pacific Ocean. Among the notable cars were a 1931 rolls Royce powered by a 27 liter Merlin Aero (airplane) engine, a 1932 Tipo B P3 Alfa Romeo which had won the 1934 Monaco Grand Prix and 1935 Mille Miglia, and a factory 1958 Porsche RSK which in 1959 had won both the Targa Florio and Reims Formula II races.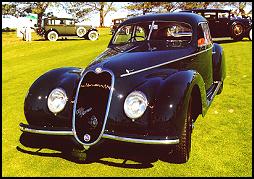 I spoke with a gentleman who had brought two pre-war Alfa Romeo coupes. While looking at his 1939 Alfa Romero 6C2500 Sport, I asked him if all pre-war Alfas were right-hand drive or were these cars made for England? Being partial to English cars, that's something I noticed and found curious. His response was fun. According to this gentleman, all Italian cars until around 1954 were right-hand drive and no one knows for sure why. There are however, three theories:
1. European race tracks were run clockwise and, therefore, right- hand drive gave the driver the advantage of being on the inside of the turn.
2. Italian roads were often mountainous and curvy, therefore, right-hand drive gave the driver the advantage of being able to see the edge of the road.
3. And finally, his favorite theory. By being on the right-hand side of the car, an Italian driver could drive up close to the curb and pinch the girls!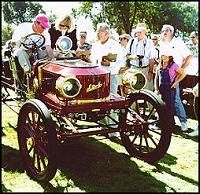 As another gentleman exited his 1965 Ferrari, I asked if he had been in the hill climb the day before. As I had worked Turn 1, I thought I recognized him. He said he ran both the Ferrari and a Porche and thought the "turns were too close together". I responded, "That's funny, the Stanley Steamer driver thought the turns were too far apart!" He didn't even smile,
so much for humor.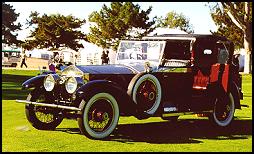 I recognized the owner of the 1925 Rolls Royce Silver Ghost "Bullet Hole Car" as I had the pleasure of judging his car at the Deer Park Concours earlier this year. He invited my son to sit behind the wheel for a photo while he regaled onlookers with the story behind his car. It seems back in the 1930s during Prohibition, this car was owned by a Chicago socialite and her husband. He didn't like going to speakeasies, so she would often go with a friend. One night when they approached the speakeasy, gunfire broke out. As the chauffeur turned the car, a stray bullet stuck the cowling just below the windshield. The woman was so distressed that when she got home, she told her husband they must fix the car right away. His response was, "No, my dear, we must leave the bullet hole as a reminder of your indiscretions". So even after a recent restoration, the 32 caliber bullet hole remains today for a wonderful story.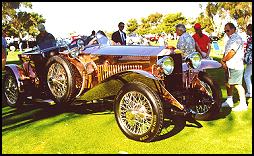 While each of the cars was spectacular in its own right, the absolute show stopper in my mind was the 1921 Brockman Torpedo Body Rolls Royce Silver Ghost.
Although there were no MGs in sight, this wonderful event has become one of my favorites. This year, in addition to the Concours and Race Car classes, they included a group of Unrestored Antique Cars (for those who enjoy "original" as well as "perfect"). Go with a friend and before you leave ask, "If you could only choose one, which car would you like to take home?" That is a hard question to answer. I have always wanted a Rolls Royce, but now I find a right-hand drive Alfa strangely appealing.