The 1998 Torrey Pines Hill Climb


by Doug Pulver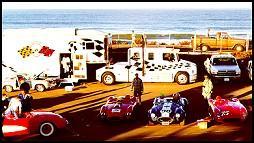 The 1998 Torrey Pines Hill Climb began with an absolutely beautiful warm clear day in San Diego. The event took place on North Torrey Pines Road and the proceeds went to benefit the Institute for Childhood and Neglected Disease at the Scripps Research Institute. Although not a spectator event this year, I hope spectators will be allowed in the future.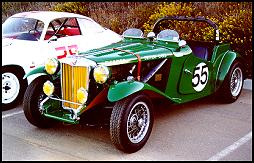 North Torrey Pines Road was closed to regular traffic (both north and south bound) specifically for this event. The course started at the beach and ran south for about a mile up the hill to the first stop light. You may recall that this stretch of road is fairly straight, but four groupings of hay bales were set out to create "corners" or "turns" for the various entrants to navigate. Cars ran the course one at a time and raced against the clock.

I volunteered to be one of the course workers and was stationed on Turn 1 within site of the starting line. That way race control was able to keep a watchful eye which seemed like an excellent idea since neither my Marine partner nor I had ever before worked such an event. This must have been an excellent vantage point because positioned alongside us was the Speedvision film truck. Naturally, the Speedvision cameraman was complaining about his assignment - seems he's an old airplane aficionado and can't seem to get assigned to cover airshows. (Tough luck, I'm not sympathetic.)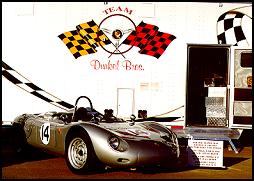 I estimate that there were about 50 participant automobiles ranging from an early 1900s Stanley Steamer all the way up to a relatively late 1970s NART Ferrari. As the day passed we were witness to a Talbot Lago Saloon, a Rolls Royce powered by a Merlin aircraft engine, an Hispano Suiza, a body-less Packard, the FASPEC MGTD, a 1958 Porche RSK factory race car, a Mercedes Gullwing, a Corvette and numerous Porches, Ferraris, and Alfa Romeos.
There were quite a number of Marine volunteers for this event and so it was on Turn 1. Across the course from me was a group of four young Marines whose job it was to stand by in case of emergency. When the Stanley Steamer drove by the first time, one of them asked if it was a real car or if "the guy just made it". I assured him that Stanley Steamer was a "real" car and not just a carpet cleaning company.

This was the most fun I've had in a long time. Sure there were the sights of these old cars with the beautiful backdrop of Torrey Pines Road and the Pacific Ocean, but one could have similar visual experiences at any number of car shows. The wonderful thing about this event was the breathtaking sound of these magnificent old cars at speed.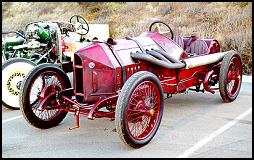 This event is too much fun to keep closed to the public. I sincerely hope a suitable venue with spectator viewing will present itself for next year. And for heaven's sakes where are the British cars? Didn't they invent hill climbs in England? While I'm not likely to join the Marines to participate, I hope to be invited to "work" the course again.