CONVERT YOUR MGTD TO WIRE WHEELS

MGTF Wire Wheel Rear Axle (original & complete).
This rear axle is from a 1955 MGTF 1500 and believed to be original in every way. The following maintenance using Moss Motors parts has been performed within the last 200 miles:
New oil seals and repacked bearings
New brake shoes
New hub stud nuts and brake drum locktabs
Rebuilt wheel cylinders
Rear end oil changed

This wire wheel rear axle is ready for immediate use - install, bleed the brakes and drive away.

MGTF Front Wire Wheel Hub Assemblies (original & complete).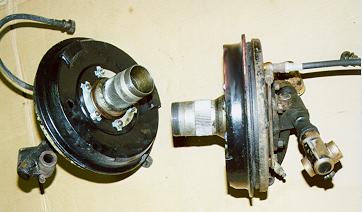 These front wire wheel hub assemblies are from a 1955 MGTF 1500 and believed to be original in every way. The following maintenance using Moss Motors parts has been performed within the last 200 miles:
New oil seals and repacked bearings
New brake shoes
New hub stud nuts and brake drum locktabs
Rebuilt wheel cylinders (one leaks and will need replacing)
Complete wire wheel rear axle and both front wire wheel assemblies all for the price of $950 OBO. Call: (858) 278-5359 (San Diego, California).
Return to MG World