Book your travel online, Mobile, or call toll free Call 1-800-632-3303 for reservation assistance
SPECIALS:
Or visit:
►San Diego ►San Francisco ►Orlando ►Chicago
►San Antonio ►Washington DC ►Las Vegas
►St. Augustine ►Tampa Bay ►Clearwater Beach
►New Orleans ►Phoenix-Scottsdale ►Palm Springs
►Santa Barbara ►Solvang ►Carlsbad ►Singapore
►Catalina Island ►Disneyland ►Los Angeles ►Paris
►London ►Mexico
GoThere® Corporation brings you to some of our favorite world travel destinations, linking you to photos, maps and discount offers  to hotels, air and car rentals.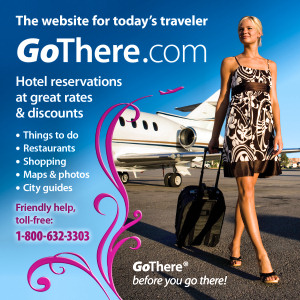 © 1994-2014
GoThere Corporation
GoThere.com ®

®
GoThere and GoThere.com are registered trademarks
of GoThere Corporation. All other uses of those trademarks
are strictly prohibited.