About Fisherman's Wharf
San Francisco
Once the heart of San Francisco's waterfront industries, now Fisherman's Wharf is home to some of the city's finest seafood restaurants, one-of-a-kind shops and art galleries. Buy a cup of fresh steamed crab meat and stroll around. Save room for chocolate.
Drag the little guy below to explore Fisherman's Wharf or double click on the photo to follow the trails. Click on the upper right corner for a full screen view ▼
Fisherman's Wharf Pass: Two-day pass to 10 tours, cruises, and attractions. Wharf Pass includes 44 additional discount coupons for Wharf area dining, shopping, rentals, parking and sightseeing.
---
Fisherman's Wharf Hotels
HILTON FISHERMAN'S WHARF
This boutique hotel is near Pier 39, Ghirardelli Square and Fisherman's Wharf. Features large rooms and Continental Cuisine in their Vintner's Grill restaurant.
HOLIDAY INN FISHERMAN'S WHARF
24 hour family restaurant; fitness center and heated outdoor pool. Walk to China Town.
HOLIDAY INN EXPRESS
Business center; free high-speed internet; free local calls and Continental Breakfast each morning.
HYATT AT FISHERMAN'S WHARF
Deluxe hotel near Pier 39 and across from the cable car. Sheltered outdoor pool for your comfort and privacy. Easy parking.
TUSCAN INN
Rated "best hotel in Fisherman's Wharf" by Frommer's Travel Guide. Cafe Pescatore features seafood and Italian favorites.
COMFORT INN BAY
Views of Golden Gate Bridge. Three blocks from cable car. Ghirardelli Square is a short walk away. Don't miss the free breakfast buffet.
---
Fisherman's Wharf Restaurants
Rainforest Cafe
145 Jefferson Street

Ghirardelli Chocolate Manufactory
Ghirardelli Square

Gaylord (India) Restaurant
Ghirardelli Square

Cioppino's On The Wharf
400 Jefferson Street

Crab House at Pier 39
Upper Level

Franciscan Restaurant
Pier 43 1/2, The Embarcadero

Neptune's Palace Seafood Restaurant
PIER 39

Nonna Rose Seafood Trattoria
7 Fisherman's Wharf

Pompei's Grotto
340 Jefferson Street

Scoma's Restaurant
Pier 47

Tarantino's
206 Jefferson Street

Ana Mandara
891 Beach Street

Boudin Sourdough Bakery & Cafe
Pier 39 & Ghirardelli Square

The Pier Market Seafood Restaurant
Pier 39
---
Fisherman's Wharf Shopping
The Anchorage Shopping Center
2800 Leavenworth Street
The Cannery
2801 Leavenworth Street
Ghirardelli Square
900 North Point Street
Lahaina Galleries at Fisherman's Wharf
645 Beach Street
The Fudge House
Pier 39
The Cable Car Store
Pier 39
Kitty City
Pier 39
The Marine Mammal Center Store
Pier 39
Shell Cellar, Inc.
Pier 39
Treasure Ireland
Pier 39
Victorian Shoppe
Pier 39
---
YouTube Videos of Fisherman's Wharf
---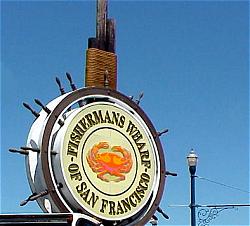 Look for the Fisherman's Wharf sign.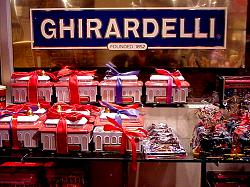 Chocolate everywhere at Ghirardelli.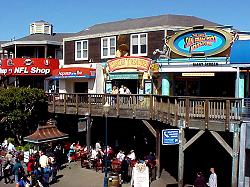 Fun and games at Pier 39.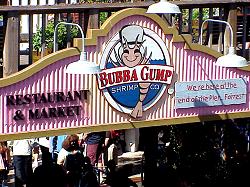 Bubba Gump for shrimp and attitude.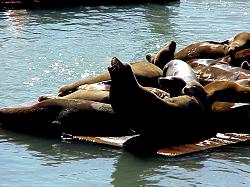 Sea Lions at home in the bay.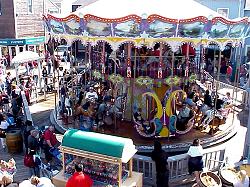 Ride the ponies round and round.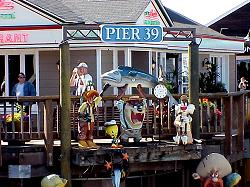 A few unexpected friends at Pier 39.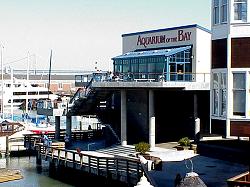 Aquarium of the Bay for FRESH fish!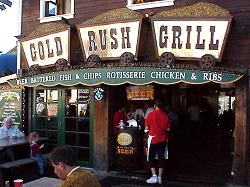 Gold Rush Grill for fish, chicken & ribs.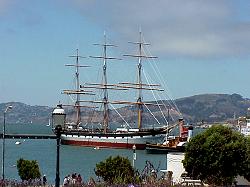 When ships were wood and men iron.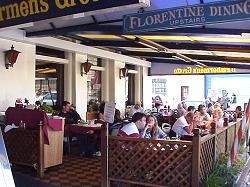 Dine out to see and be seen.

Fishing boats at Fisherman's Wharf.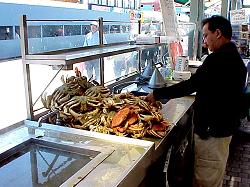 Walk away with a fresh crab cup.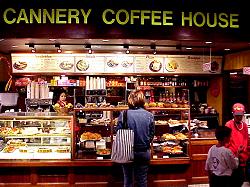 Perk up with coffee and a sweet roll.