A common feature of the La Mesa skyline of the early 30's were the numerous wooden oil derricks that had been built by the Balboa Oil & Gas Co.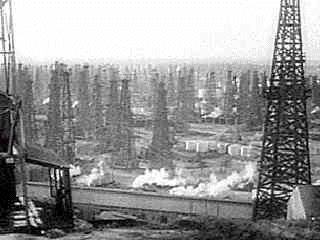 - La Mesa Oil Fields -
Rodriguez "Rocky" von Balboa's success in the ship building and shipping industries allowed him to venture into wild-cat oil prospecting. Clearing an avocado orchard in La Mesa, he quickly brought in his first gusher. Through intricate land deals with the Avocado Growers Association leader Al Guacamole, Rocky kept other oil companies from competing.
Mexico, through a program of social reform under president Lazaro Cardenas, in 1938 expropriated the properties of American and British oil companies. Although these actions were protested and compensations sought, Mexico refused and the matter was effectively closed when war broke out in Europe.
Although all of the oil equipment was removed to Mexico, it is still possible to find discarded drill bits in some areas along La Mesa Blvd. Rocky renewed his interest in ship building with the start of a cruise liner to be named Andrea-Doria.
---