Not long after the family had set up housekeeping in San Diego, and while they were still unpacking from the dismal sea voyage, my great uncle Rodriguez von Balboa slipped out of the house to begin his young business career.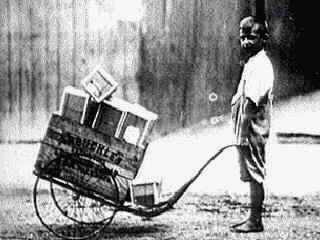 - Rocky goes door to door -
He scrounged some rusty bicycle rims and a few boxes from the alley behind the neighborhood Polish restaurant. Chunks of broken stone foundation from a construction site went into each box. These he sold door to door as decorative aquarium rocks…the precursor to the Pet Rock craze of the 70's.
Within a few weeks he had sold enough rocks to allow the family to make the payment on an anchovy fishing boat. Boats and boating would thereafter always be associated with the Balboa fortune, but "Rocky" would always be the proud nickname associated with the family's name.
---