When my great uncle Rodriguez von Balboa took his money home from selling rocks door to door, his two sisters, Emily and Andrea thought it would fun to be back on a boat again.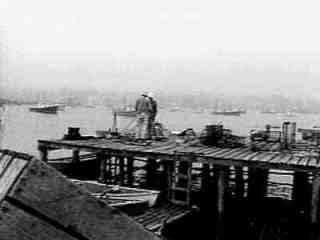 - Rocky and his father survey their prospects -
The children's father, Hurbert - a cretin - took the money and Rocky down to the docks to find a boat. The first pier they came to had an old row boat full of anchovies tied up to it. Hubert inquired as to the boat on the pier, "For sale?" he asked. The owner of the boat (and the even worse pier) thought the offer was for the pier: the boat was worthless with a hole it that allowed the anchovies to swim in. He named his price. Accepted. The deal was done.
The now previous owner left Rocky and his father alone on the pier to survey their new situation. An attempt at a quick row around the bay ended in only wet posteriors.
That very moment a new fad in San Diego: pizza with anchovies swept through Restaurant Row. Pizza chefs stood in line on the dock to buy anchovies. Rocky spent his days scooping the tiny fish up through the hole in the boat while his father filled an old cigar box with the money. In several years they were able to turn the old pier into a ship yard.
---