While en route to Argentina, the Family of Hubert von Balboa stopped at the port of San Diego. The stop was a long one however. The ship had experienced rudder problems after a collision with a gray whale and came in for quick repairs.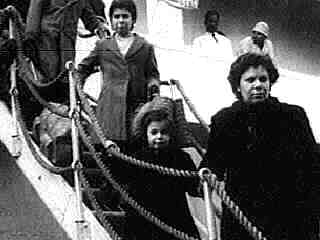 - Rodriquez, Emily and Andrea von Balboa -
The elder von Balboa mistook a public address announcement: "Don't get off the boat" as the signal that they had arrived. The family got off with only carry-on luggage. While they waited on the dock for the rest of their trunks, the now repaired ship cast off lines and proceeded out of the harbor.
The family was able to find cheap accommodations near the harbor in the unlikely event that the ship would return with their luggage. The youngest, Rodriguez quickly set about to earn a living for the family. The rest, as they say, is history.
The family motto became "Never get off the boat."


---