James Earl Fay had a serious problem. The new cabaņas that he had built on the sand in front of his La Jolla Beach & Tennis Club were continually being knocked down by ships missing the harbor entrance, and going aground there.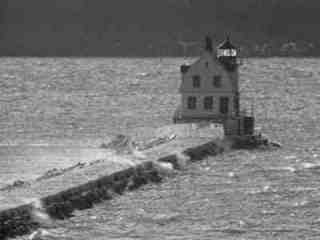 - The La Jolla Lighthouse -
At great expense, he had an entire functioning lighthouse moved from Gale Harbor, New Hampshire to sit on the end of the breakwater at the Children's wading pool. This he hoped would warn passing ships, and guide them into the harbor, and not on to his beach resort.
The plan was a mixed success. While the lighthouse did manage to keep ships off the beach, it acted like a giant beacon to families of sea lions.
Within weeks, the beach was covered by the huge, smelly creatures. Fay was forced to give up part of this particular beach front, and concentrated his enterprise further north.
Years later the lighthouse was hit by the Andrea-Doria during a black-out, sending both to the bottom of the sea.
---