Margo Thropp was presented the San Diego Rowing Club's first life-time achievement award for furthering the sport of human-powered water-craft, the "A" Cup.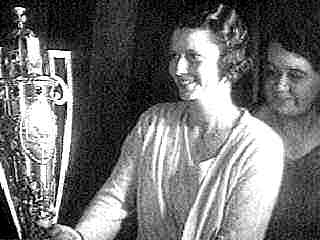 - Margo Thropp and her A-Cup -
Miss Thropp had won the 1938 Miss San Diego title, due in part to her demonstration of dugout canoe building techniques during the talent portion of the pageant.
She also led the local synchronized canoe paddling team in the 1938 Summer Olympics on Mission Bay, and during the war saved 35 sailors in a daring water rescue in the Pacific.
Renamed The Thropp Cup, it is now on display in the Balboa Maritime Museum except during the San Diego Rowing Club's bi-annual presentation ceremonies when the new winner's name is added. Made of sterling silver, the cup is second only to the America's Cup in its significance to the international sporting community.
---