John Jr., the son of Jaun "Honest John" Cortez and Tulip, daughter of Emily von Balboa were married in the Ashley Monastery despite dire warnings from local psychics.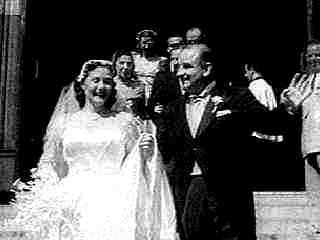 - Wedding Bell Blues -
During the obligatory walk under the Cheren Arch in Balboa Park, John Jr. faking a heart attack, fell face down in the reflecting pond.
John it seems, had planned to stage a medical emergency, travel to Switzerland ostensively to recover, there to rendezvous with his Swedish lover and live off Tulip's fortune. Tulip was afraid of boat travel and would never follow.
The plan could have worked if the pond's drain had not come loose. The suction caused John to lose half his face. John lost the other half in the hospital after Tulip left him for a burly bed-pan orderly.
---