After 14 days at sea, the 3rd Marine Battalion stationed at Camp Elliott returned to San Diego, out of harm's way.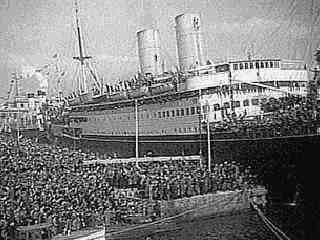 - Converted cruise liner Andria-Doria -
Much to the relief of friends and family in San Diego, the war in the Malvinas Islands had ended just 12 hours before the converted cruise liner Andrea-Doria and her precious cargo of Marines was scheduled to enter the war zone. They were ordered to return to San Diego with out ever getting off the boat. "Never get off the boat!" was later to become the unit's motto.
It was through the speed and bravery of our Navy Air Corps. in getting the Pacific Carrier Group to the islands that enabled the destruction of the entire enemy air force before any ground reinforcements could arrive from the main land. Cut off and confused, the island forces capitulated.
Surrender ceremonies were held on the deck of the carrier Coronado. Rear Admiral O.B. Pier accepted the islands' flag from the defeated garrison commander. The flag and the Navy Flying Cross were awarded to 2nd Lt. Patrick Brown in recognition of his outstanding contribution during the conflict. Brown had shot down 5 enemy planes in the 2 ½ day war.
---