The most famous of all bi-wing seaplanes was the Navy PB-M Seaplane. With a 1,000 horsepower engine and a 1,500 mile range, one of the planes carried Charles Lindburgh and Edward Balboa non-stop from San Diego to Paris.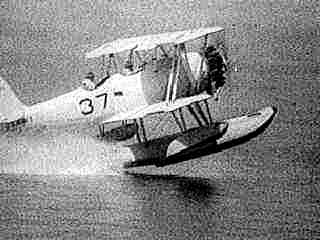 - #37, the "Spirit of San Diego" takes off for Paris -
The PB-M Seaplane was first built at the Ryan Aeronautical factory near Harbor Drive at Lindbergh's field. Production was later moved to Argentina to take advantage of cheaper labor costs. Quality suffered however, and the final 24 planes were built at the Mindörff facility in Münich.
An engine from a PB-M, wrecked in San Diego bay by John "Nick" Brown, was salvaged by Dr. Stephen Ashley and used to power his race car the "Ashley Batmobile."
The early pioneering efforts in this powerful seaplane led to the eventual construction of the four-engined PB-W Seaplane that still holds the record for around the world seaplane flight.
---