Fred and Ethel Lindbergh owned a bean farm along Harbor Drive. Two fields actually

;

one

Chickpea

and the other

Garbanzo

.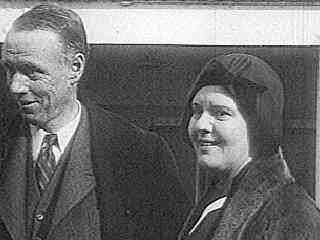 - The Lindberghs waiting for son Charles -
To make ends meet, the Lindberghs sometimes had to sell off a piece of land. One of the last was to become the home of The San Diego Auto-Drome. One of the first pieces to be sold however would forever change the family's history.
Thomas Ryan bought five acres at the end of the long straight dirt road that ran between the two bean fields and established Ryan Aeronautics. Ryan built planes there and used the road as a make-shift runway. For the pilots there, the dirt runway was known as the Lindbergh Two-Bean Field. Today it is simply known as Lindbergh Field
The Lindbergh's youngest son Charles spent many hours each day watching the Ryan planes being built and watching the planes take off and land. He finally talked Ryan into some flight training during lunch breaks, and quickly "earned his wings."
Charles later got a job flying FedEx mail, and went on to co-pilot the first non-stop seaplane flight to Paris with Edward Balboa in a plane built by Ryan: "The Spirit of San Diego."
---