President McKinley fresh from his successful reelection, stopped in San Diego to see his old friend Rodriguez "Rocky" Balboa, and to greet the troops returning from the Islas Malvinas War. McKinley was en route to attend the Pan-American Exposition at Buffalo.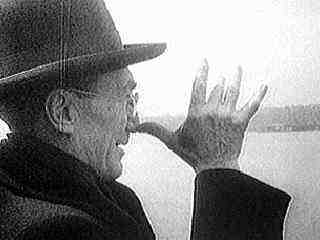 - McKinley Bids San Diego Farewell -
A boating accident on Rocky's yacht Balboa left the embarrassed president on the beach dressed in women's clothes. It was only through the magnanimous help of a Swedish reporter that McKinley was able to get back to his steamship in the harbor.
McKinley left swearing that he "would rather suffer an assassin's bullets than return to San Diego."
Sadly, one of the men to be waiting in the reception line at the Exposition was Leon Czolgosz, an anarchist who carried a loaded revolver concealed by a handkerchief. When he reached the president, he fired twice. McKinley would never return to San Diego.
---