The three Park sisters owned and operated Park Automotive Manufacturing in San Diego from 1935 to 1938. They produced 3 distinct models of cars, each named for one of them.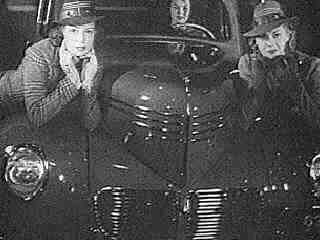 - Veronica, Emily and Grace Park -
The most popular of the cars was the Veronica Park. It featured separate front seats, a convertible hard-top and a straight-8 motor capable of propelling the car over 120 mph.
The younger sister had the Emily Park built with the family in mind. Four doors and a trunk big enough for a week-end outing made the car a success. Emily insisted that all of her cars be painted a striking shade of plum.
The oldest sister went for style and grace and designed the Grace Park to be the last word in luxury. The car was a limousine with seating in the rear for 6. A drop-glass curtain separated the passengers from the driver. Art Deco lines and a hood ornament of a leaping naked Grace made the car quite distinctive.
"Grace" was a nickname that Veronica and Emily had given her because she was always bumping into things as she was too vain to wear glasses. Her real name, which she never used, was Marisa. This may also have been a good name for the car, as it was a wrestling term once used by the American Blackfoot Indians meaning "best of three".
The war spreading in Europe made continued automobile production impossible. The factory was converted to building aircraft. The Park twin-engine P3 fighter/bomber saw action over North Africa and Italy. The factory was closed after the war, but later reopened as a night club.
---