Crowded, smoke-filled off-track betting parlors became a thing of the past as Juan "Honest John" Cortez opened San Diego's first walk-up window for playing the ponies.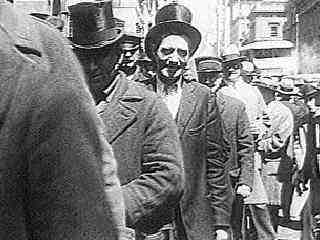 - Rich and poor wait in line to lose their money -
The success of the walk/drive-thru window at the Ashley Bakery on Point Loma gave Honest John the idea to improve the turn-over at his gambling franchise on Broadway.
Inserting a window on the sidewalk side of his shop speeded transactions greatly. Later he put a microphone and speaker inside a plastic horse's head and located it down the block so that people in line could place their orders, then pay and pick up their tickets at the window.
After numerous complaints from patrons that they all seemed to be losing too often, Honest John started offering "Happy Meals" along with the sale of horse racing tickets. It wasn't the food so much as the cheap "gift" that came with it that satisfied the customers. They didn't seem mind to mind losing hundreds of dollars on the fixed races so long as they got a 5 cent gewgaw to show for their efforts.
---