Juan Cortez epitomized the shady character that we all read about in fiction. He chose to go by the nick name "Honest John" which gave the San Diego Times business and crime writers no end of clever headline possibilities.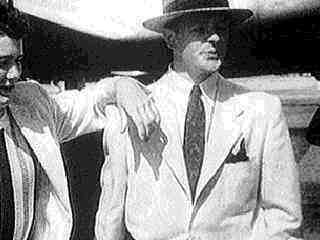 - Always well dressed, Juan Cortez -
In 1817 Bernardo O'Higgins became the first president of Chile after driving out the Spaniards in a battle for independence. The Cortez family fled the new government and came to San Diego, bringing with them suitcases full of the national treasury. Unfortunately a change in currency made the bank notes worthless by the time they arrived here.
Juan Cortez's dream was to restore the family fortune. He set about in various business enterprises, all seemingly tainted with fraud or deception. His Midway Gas Station , Honest John's Used Cars and later the Nickle & Dine Emporium lined his pockets sufficiently to allow him to finally open the Bank Of Cortez.
The bank ultimately brought respectability to the family. Brother, William Cortez became a noted architect, and up until the early 1970's the El Cortez hotel was the most popular in San Diego. San Diego has a very short memory.
---