Sydney Palomar was the Chief Naval Engineer at the Balboa Ship Yard until his retirement in 1958.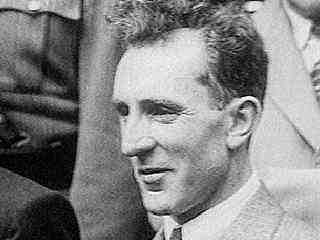 - Palomar at the launching of the Andrea-Doria -
Palomar completed many fine designs for vessels raging in size from sailing yachts to passenger liners. The only problem was that every ship he designed for Balboa sank within a year.
It would be unfair to state that design flaws caused the early destruction of so many ships. Many of the losses also involved poor weather conditions, questionable seamanship and dangerous cargo. But, still there was something about his ships.
Certainly the most famous of his designs was the passenger liner Andrea-Doria which sank off the coast of La Jolla after colliding with the lighthouse. Even the yacht he designed for his employer Rodriquez "Rocky" von Balboa ran aground in perfect weather conditions.
During the war years Palomar divided his time between designing sea-going ships and designing lighter-than-air ships. His luck was no better with blimps. His work on a 200" diameter telescope built in the mountains of San Diego may be the only lasting accomplishment of his career.
---