The most feared opponent in the world of professional canvasback wrestling was San Diego's own Joseph "Mount" Helix. After a 3-year whirlwind tour of Central Patagonia, native son Helix returned here to renew his dominance of the local wrestling arena.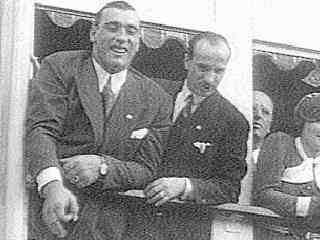 - Mount Helix greets the ladies with a hand gesture -
As big as Helix was in stature, he was as limited in cranial activity. It was necessary for his trainer/twin brother, Duane "Double" Helix, to accompany the wrestler wherever he went, both in and out of the ring. In the unlikely event that they should ever become separated, Mount Helix wore a lapel pin with the 1-800 telephone number of his brother's pager.
Mount Helix fancied himself as quite the ladies' man. It may have been more a factor of his wealth than his social skills. Even before the introduction of Politically Correct behavior, Mount Helix was often brought-up on charges of making obscene hand gestures to women in public.
Mount Helix retired years later in La Mesa. His brother became a civil engineer, building the local Water District and an elaborate system of roadways that coincidentally increased the property value of Mount Helix. Today, tourists can enjoy the park near where Mount Helix was buried under a huge white cross. The site also provides a panoramic view of where the La Mesa oil fields were once located.