Former trolley car conductor Bill Murphy testified at the Cortez Corruption Hearings that well-dressed thugs forced him to "palm" a nickel out of every dime fare he collected, and turn the money over to them.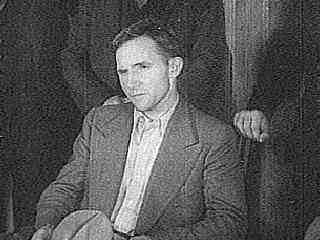 - Murphy (without a tie) describes trail of nickels -
Murphy said, "I knew they were from the Cortez organization. Sometimes I could even see "Honest John" sitting in the back of that big 'ol Grace Park limo of his when I went to deliver the money." He went on to say, "As you can plainly see, I have no ties to organized crime."
Months later, at the Cortez Corruption Trial, Murphy returned to testify wearing not only an expensive tie, but a white linen suit and expensive hat very much like those worn by Cortez and his underlings.
On the witness stand, Murphy had no recollection of his previous statements, but did offer that "Mr. Cortez is the most honest man I know. Recently, while riding my trolley to Normal Heights, he handed me a wad of bills that he said had fallen out of my pocket."
The judge, seeing that all of the remaining witnesses waiting to testify also were wearing white linen, declared the trial over, dismissed the suits and released Cortez.