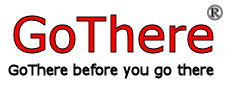 Book your travel Online, Mobile, or
Call 1-800-632-3303 for reservation assistance
GoThere® Corporation brings you to some of our favorite world travel destinations, linking you to photos, maps and discount offers to hotels, air and car rentals.
Is your website customer-friendly? We now offer help through GoThere.org
"Making your website customer friendly"
GoThere is a registered seller of travel in California, Florida, Iowa, Nevada, and Washington under each state's seller of travel regulations.
California registration number: 2062801-50
Florida registration number: ST-35828
Iowa registration number: 769
Nevada registration number: 2005-0054
Washington registration number: 602 354 018
Registration as a seller of travel in California does not constitute the state's approval. GoThere Corporation is an information source and does not issue airline tickets or travel related services online. Purchasers of airfares and travel related services in reliance upon this advertisement should confirm all additional charges and fees associated with the total cost of the airline ticket or travel related services with the travel agent or airlines issuing the ticket prior to final purchase. Total fare per passenger, including all charges, will always be disclosed to you prior to final ticket purchase. List of Hotels. Places to Go...Things to See and Do
GoThere.com ®

®
GoThere and GoThere.com are registered trademarks
of GoThere Corporation. All other uses of those trademarks
are strictly prohibited.
Privacy Policy Statement
Link Policy
© 1994-2013
GoThere Corporation
All Rights Reserved.