San Diego's pioneering television station KSAN channel 8 with business man Juan "Honest John" Cortez, together built the first outdoor big screen TV theatre. The screen was situated in a park-like setting on El Cajon Blvd. near College Ave. where patrons would pay to walk in to watch.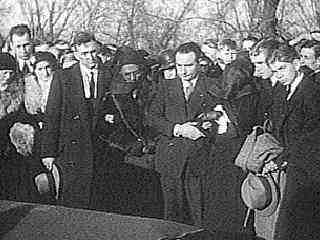 - Small screen frustrates a big crowd -
The technology of the time only allowed a 12-inch screen. Although this was still larger than the 6-inch screens of home TV's at the time, the size did not provide the scope that made group viewing practical. Cold winter months reduced ticket sales, and the first winter rain storm caused the final short-circuit to the endeavor.
Honest John was undaunted. He purchased the land from KSAN along with the rights to put on public outdoor screenings. With his new partner Oscar "El Cajon" Soledad the two built the Campus Drive-in Theater.
A huge screen was made possible by using movie projectors. With patrons now safely inside their cars, inclement weather was no longer a problem. In fact, being located so close to State College, the theater usually filled with cars even during rain storms, the young couples not caring about the action on the screen.
---