Every year on January first, San Diegans love to come out for the Do-Dah Parade. The first one was held in Balboa Park in 1929.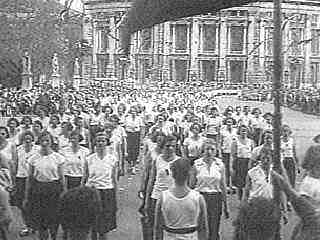 - The men of Hillcrest come out for the parade -
By far the largest group entering the 1929 Do-Dah Parade was the OLP (Our Lady of Peace) student look-alike contest. 453 men from Hillcrest donned red and yellow OLP uniforms marched down Balboa Park Way, past the Museum of San Diego Culture and on to Balboa Stadium where they recreated the "Welcome" sign celebrating the Balboa/Lindbergh flight to Paris.
Other groups that first year were the "Mothers with Ugly Babies in Perambulators", the "Gee I Miss Mosquito Plagued Montana", the "Someone Stole My Briefcase in the Airport" and the "Wipe That Smile Off Your Face Before I Wipe it Off For You." One of these groups was comprised of off-duty members of the San Diego Police Department, although today it is not know which one it was.