An enlargement of a photo from the Balboa-Cortez Wedding shows Amelia Earhart and Edward Balboa leaving the ceremony just ahead of the bride and groom. Amelia and Edward it turns out were also bride and groom that day.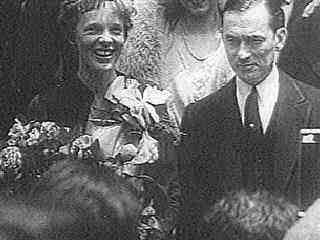 - Amelia & Edward Wed -
Edward and Tulip had agreed to let their friend Amelia and Tulip's brother Edward secretly participate in their wedding to help the couple avoid unwanted publicity. The priest at the monastery was included in the plan so as to make the wedding official. As Tulip and Edward said their vows, Amelia and Edward said theirs softly from the back of the chapel.
The following day Edward and co-pilot Charles Lindbergh set off on their duo-flight to Paris aboard a PB-M Navy Seaplane. Amelia left the same day on her tragic around the world flight attempt in her Ryan series 1K aircraft, never to return to San Diego.
History can only wonder how events would have played out if Amelia and Edward had gone together and Charles Lindbergh had attempted a solo flight to Paris. "Whether it was considered the thing to do or not was irrelevant…and I knew that there was more fun and excitement in life than I would have time to enjoy." -Amelia Earhart